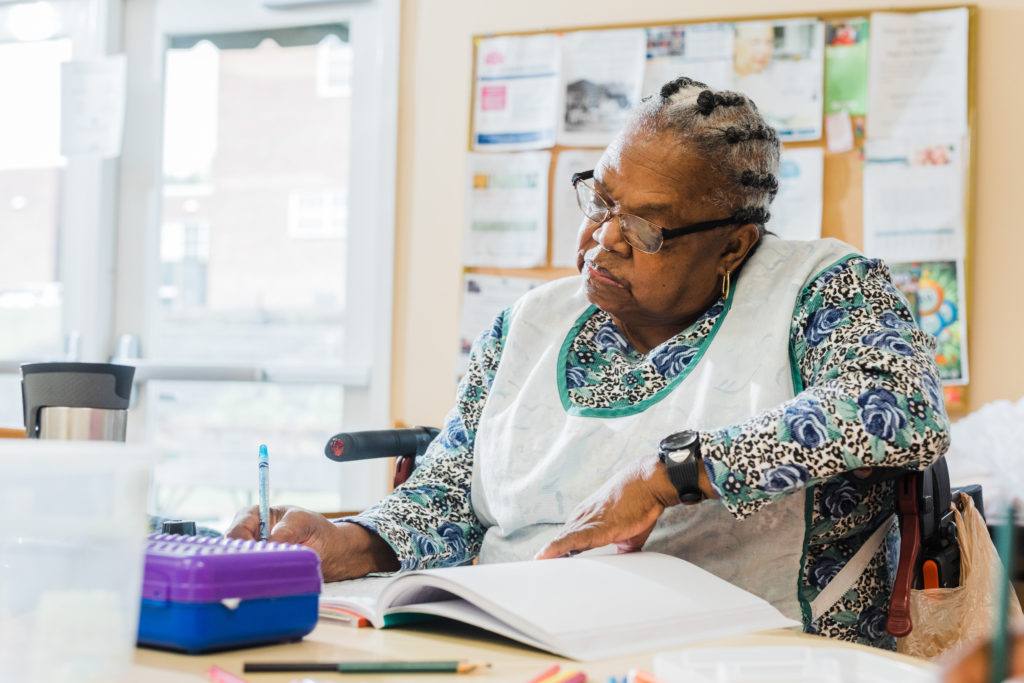 Due to Covid-19 safety precautions, programming is subject to change. Please call the center at 770.832.1644 for updates.
The Carrollton Senior Center is located at 220 West Avenue. Activities and lunch are provided to members of the center. Annual dues of $20 are renewed each July. Dine-in lunch is served, Monday through Friday, at noon. Members desiring to reserve a meal must call (770) 832-1644 each day between 8-10:30am to sign up. Lunches are $3.50 for members ages 55-59 and $2 for ages 60+. Phone number to the center is (770) 832-1644 and email address is tdebick@carrollton-ga.gov .

Computer Lab
Monday – Friday / 8am – 4pm
Don't be intimidated by technology. The Senior Center has seven computers in the computer lab and we want you to learn how to surf the net, set up a Facebook page, type a letter, play solitaire or any other thing you come up with. We have a volunteer that will work with you. You are never too old to learn how to use a computer.
Social Activities and Groups
Billiards
Monday – Friday / 8am – 4pm
Age: 55+
Carrollton Senior Center Billiards Room
Even if you haven't played billiards in a while, you can improve your skills through practice and friendly competition against other seniors. We also hold tournaments during the year. There are four billiards tables.
Free with Senior Center Membership
Wood Carving
Tuesdays / 9:30 – 11:30am
Age: 55+
Senior Center Art Room
Wood carving lets seniors be creative by carving different types of wood into art. Participants share ideas and encourage one another to try new techniques. Beginners as well as skilled artists participate in this free class. You MUST bring your own supplies.
Free with Senior Center Membership
Line Dancing
Beginner / Tuesdays / 9:30 – 10:30am
Intermediate / Tuesdays / 10:30 – 11:30am
Advanced / Thursdays / 9:30 – 11:30am
Age: 55+
East Carrollton Hospitality Room
The West Georgia Silver Liners practice on Tuesdays and Thursdays. The Silver Liners go into the community on a monthly basis to perform in nursing homes, assisted living facilities, senior centers and community events to show off their abilities and routines.
FREE with Senior Center Membership
Joyful Noise Gospel Group
Tuesdays / 9:30am
Age: 55+
Carrollton Senior Center TV Room
Joyful Noise Gospel Group singers use their love of music and singing to entertain other seniors. Even though they sing a lot of gospel songs, they also learn other types of music that fits into the holiday seasons. This group sings monthly for the birthday party at the Senior Center but they also go out into the community to sing.
FREE with Senior Center Membership
C-Our-Age Senior Walking Group
Monday – Friday
Age: 55+
Location and times vary each week
Walking has many benefits, especially for senior adults. It can improve heart health, lower blood sugar, reduce pain of some chronic illnesses and boost mental health. It is great exercise and it's free. The Courage Senior Walking Group meets at various locations and morning times vary with the seasons. Call for more information.
FREE with Senior Center Membership
Silver Spokes Bike Riding Group
Fridays
Age: 55+
Location changes each week
Cycling is a healthy, low-impact exercise that can be enjoyed by people of all ages, especially
senior adults. It is also fun, cheap and a great muscle workout that you can make as intense or easy as you want and set your own pace. The group changes the location each week. Must bring your own bike.
FREE with Senior Center Membership
AARP Driving Course
Jan. 18, April 20, July 20, October 26
Take the AARP SMART Driver classroom course and you could save money on your car insurance. Refresh your driving skills and knowledge of the rules of the road. Learn techniques for handling left turns, right-of-way, roundabouts and more. Discover proven driving methods to help keep you and your loved ones safe on the road. The class was designed for drivers over 50 but contains information that will be valuable for drivers of all ages.
Cost: $20 for AARP members, $25 for non-members
Ballroom Dance Class
Wednesdays
Senior Center TV Room
Individuals as well as couples are welcome! Instructor Noah Langley teaches different ballroom dances. This is a great way to learn to dance, socialize with others and get some exercise.
Ages: 55+
FREE
Art & Painting Class
Wednesdays / 9:30 – 11:30am
Age: 55+
Carrollton Senior Center Art Room
This class provides art, crafts and painting instruction for senior adults. Participants are challenged to be creative and to try new ideas and projects. Seniors are encouraged to never put a limit on their abilities and strive to do something bigger and better. Everyone is urged to get involved — skill level doesn't apply in this class. Class is for Senior Center members only and you MUST bring your own supplies.
FREE with Senior Center Membership
Wood Carving Class
Tuesdays / 9:30am – 11:30am
Age: 55+
Carrollton Senior Center Art Room
Wood carving gives seniors the opportunity to be creative by carving different types of wood into art. Participants share ideas and encourage one another to try new techniques. Skilled artists and beginners participate in this class. You MUST bring your own supplies.
FREE with Senior Center Membership
Beginning Crochet
Thursdays / 10am
Age: 55+
Carrollton Senior Center
It's never too late to learn something new. Crocheting can help improve seniors' emotional wellbeing, improve cognitive and physical abilities and enhance quality of life. You MUST provide your own supplies.
FREE with Senior Center Membership
Nice & Easy Aerobics
February/March: Monday/Wednesday/Friday, 11am – 12pm
April/May: Monday/Wednesday/Friday, 11am – 12pm
June/July: Tuesday/Thursday, 10am – 11pm
Age: 55+
Lakeshore Aerobics Room
Exercises are geared to the ability of senior adults. Not only do the seniors get a great workout in this class, they get to do it with friends. Instructor: Rose Dufour.
$20 per 2-month session
Senior Water Aerobics
February/March: Monday/Wednesday/Friday, 2 – 3pm
April/May: Monday/Wednesday/Friday, 2 – 3pm
June/July: Monday/Wednesday/Friday, TBA
Age: 55+
Lakeshore Natatorium
Exercising in water is good for those with arthritis since it is easier on the joints. Water aerobics also benefits seniors since the water provides some resistance to help strengthen the muscles. Not only does it give a workout, but it also allows seniors the opportunity to socialize and make new friends.
$20 per 2-month session
Valentine Day Fellowship
February 9 / 10 am-1 pm (Doors open at 9am)
Carroll County Recreation Gym, 1201 Newnan Rd.
Sponsored by the Carroll Council on Aging, this annual event includes a Chik-fil-A lunch, live music, dancing and door prizes. Come see our Elvis impersonator perform and wear your red and pink outfit and dancing shoes. No pre-registration required.
Free
Senior Prom
May 16 / 5:30 – 8:30pm
WPA Center
Come join us for dinner, dancing, music, door prizes and pictures. Pre-registration is required as there are no tickets sold at the door.
$10
Area Agency Picnic
May TBA

A tri-county picnic lunch sponsored by Three Rivers Area Agency on Aging where all the senior centers from the region get together. The picnic is held at different locations each year (within proximity), usually at an outside pavilion. We have games, fellowship and door prizes.
Cost: Free